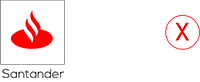 We identified a connection issue between The Slide App and the Santander Bank.
The bank will allow you to connect via the Slide app but on the way back to the Slide app Santander is producing an error message and does not allow you to download transactions and balances.
Our support teams are working to resolve the issue as quickly as possible.
Please comment below if you experience any of these issues and we will send you an email as soon as the issue is resolved.
We apologies for any inconvenience.